Christmas Hanging Ornaments
Hung by slender red ribbons on our tree, we adore the detail in these marvelous hanging Christmas ornaments. We have quite a collection by now! In fact, our children received one of these (angels for our daughter and Santas for our son, and now our grandchildren, too!) Each and every Christmas Eve as their special gift to open. Well, that and their Christmas PJs..in any case, there is a magical hanging ornament for everyone in this richly decorated (both sides, of course) collection of Christmas ornaments. Start your family tradition now!
*Please note, since these pieces are entirely hand painted the item you receive may not look like the product image listed. The color schemes for these pieces are chosen by the artist and we cannot guarantee the availability of a certain variation. For example, you may see a blonde angel with a red dress listed, but you could receive a brunette angel in a blue dress. If you require a specific color please contact us prior to placing your order to confirm availability*
Showing 1 to 145 of 145 (1 Pages)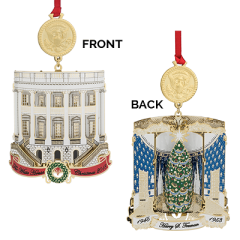 2018 White House Historical Association Annual Christmas Ornament Harry S Truman Size: (including seal charm) 2 1/8" x 3 1/4" tall The White House Historical Association's 2018 White House Christmas Ornament honors Harry S. Truman, the thirty-third president of the United States. This ornament is designed to illustrate three significant changes made by President Truman during his a..
Now Just $30.00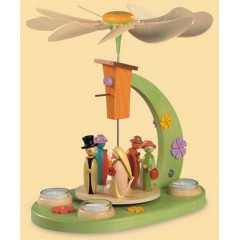 $200.00 Size: 12" x 9" x 12" A whimsical pyramid perfect for the Summer season! This wonderful creation depicts some "love birds" having a sweet wedding ceremony. A perfect twist on the traditional Christmas pyramid. Made in Germany ..
Now Just $200.00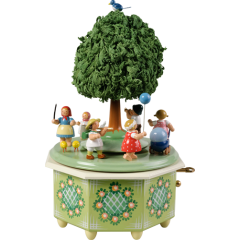 $980 Size: 26.5 cm tall 11" tall This charming springtime music box is sure to set to bring a smile to your face! This collectible, high quality piece features the signature style and look of Wendt and Kuhn with a 36 tone Swiss music box. Up top you'll see sweet children partaking in spring activities and the handpainted base features a delightful traditional pattern. ..
Now Just $980.00