About Us
The Christmas Sleigh, Inc.
5A East Washington Street
Post Office Box 181
Middleburg, VA 20118

Telephone: (540) 687-3665
Fax: (540) 687-3435



Hours of Operation:


7 Days 11 to 5
We close at 2:00 PM on Christmas Eve and New Year's Eve
Closed Thanksgiving Day, Christmas Day, and New Year's Day

We ship worldwide

Order toll free 866-258-1828



Email:


info@thechristmassleigh.com

Subscribe to The Christmas Sleigh Newsletter:

SPECIAL ORDERS
The Christmas Sleigh carries a wide variety of high quality and hand made European items. Many of our products are not as yet on our web site and we add to our inventory virtually every day. Our frequent buying trips to Germany, Austria and Italy during the year help ensure that we can usually locate whatever it is you are looking for as long as it is still being made! We are happy to help you find that special piece, so please don't hesitate to give us a call. We will work with you to help you find the product you are looking for.
COLONIAL WILLIAMSBURG HOLIDAY DECORATIONS
Special Order In addition to the Colonial Williamsburg items found on our web site, The Christmas Sleigh also offers an incredible line of custom Williamsburg Christmas decorations for your home available by special order.
Special Orders generally require two weeks to be filled. We offer our handmade artificial pine wreaths festooned with beautiful fruits and nuts, truly reminiscent of Colonial Williamsburg, as are our beautiful door toppers, designed to hang over your front door during the Christmas season.
These beautiful Colonial Williamsburg door toppers are hand made using a wooden arched form with galvanized nails made in Germany, then decorated with preserved (but real!) magnolia leaves, boxwood, apples, and a center *pineapple. These door toppers can also be special ordered in lemons or in oranges.
We also make the
traditional Williamsburg apple trees
in sizes medium and large. These are made by using our hand crafted solid wood cone trees with galvanized nails. As in Colonial times, we hand apply each apple and pepper the rest of the cone with preserved boxwood. A *pineapple, the symbol of colonial hospitality, sits atop this apple tree. All our Colonial Williamsburg hand made Christmas decorations are made using our imported Tuscan and very realistic looking artificial apples, oranges, pears or lemons. Because we use this fantastic artificial fruit, if stored properly, these decorations will keep nicely for many years to come. These same items can also be made using real fruit; however this is available for pick up only at our Middleburg, Virginia shop.
*PLEASE NOTE: We have yet to find a truly realistic looking artificial pineapple and we have looked, quite literally, all over the world! None of the pineapples available on the market today can compare with the quality of our very authentic looking Tuscan fruit. We just could not make ourselves compromise the authenticity and the look and feel of our Williamsburg toppers and trees by using these pineapples, so, we came up with a simple solution! For the door toppers and for the apple trees as well, we simply use a real pineapple! When you are ready to hang your door topper, just place the real pineapple directly onto the galvanized nails in the middle of the topper and push it into place. This will last throughout the Christmas season. The same applies for the apple trees. A smallish pineapple should grace the top of these trees, so you will have to use a real pineapple to achieve the authenticity of a colonial Williamsburg apple tree. Because very small pineapples are very hard to find, most folks use the traditional pineapple found at most grocery stores. These are usually just too big to serve as the top of the apple trees. So, when using real pineapples to place atop the apple trees, it is a good idea to cut off the bottom half of a regular sized pineapple, leaving the upper section of the fruit and the foliage intact. Line the bottom of this cut pineapple in plastic wrap and then with aluminum foil before you place it on to the galvanized nails at the top of the tree. Surrounded by sprigs of preserved boxwood, this solution will serve you well throughout the holiday season, and will ensure that the juices from the cut pineapple do not drip onto the rest of the tree.
CLOTHING
The Christmas Sleigh Shop in Middleburg, Virginia has recently expanded and now offers what we believe is the USA's most extensive selection of exclusive and beautifully made Austrian and German traditional Trachten clothing for men, women and children. Names like Meindl, Giesswein, Lanz of Salzburg (not the Lanz that one commonly sees in nightgowns in this country, but the authentic and original Lanz made in Salzburg, Austria), Suzanne Spatt, and Mirabelle of Salzburg are just a few of the brands we carry. Whether it is luxurious hand knit woolen sweaters, beautifully made leather and suede hunting jackets, three quarter length leder hosen, hiking boots, or Bavarian Hunting hats, the clothing that we carry is all of the very highest quality available on the market today; we do not carry souvenir quality German or Austrian traditional clothing. Please call us with your questions or requests. If we don't have it, we can certainly special order it, usually at no additional charge to you. Call us at
540-687-3665
with your specific requests and we will be happy to help you.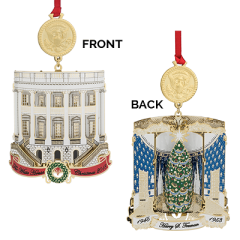 2018 White House Historical Association Annual Christmas Ornament Harry S Truman Size: (including seal charm) 2 1/8" x 3 1/4" tall The White House Historical Association's 2018 White House Christmas Ornament honors Harry S. Truman, the thirty-third president of the United States. This ornament is designed to illustrate three significant changes made by President Truman during his a..
Now Just $30.00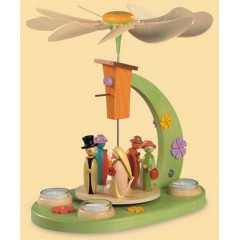 $200.00 Size: 12" x 9" x 12" A whimsical pyramid perfect for the Summer season! This wonderful creation depicts some "love birds" having a sweet wedding ceremony. A perfect twist on the traditional Christmas pyramid. Made in Germany ..
Now Just $200.00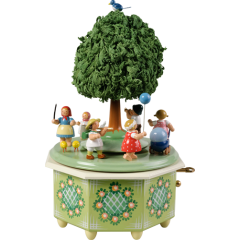 $980 Size: 26.5 cm tall 11" tall This charming springtime music box is sure to set to bring a smile to your face! This collectible, high quality piece features the signature style and look of Wendt and Kuhn with a 36 tone Swiss music box. Up top you'll see sweet children partaking in spring activities and the handpainted base features a delightful traditional pattern. ..
Now Just $980.00