German Pyramid Christmas Candles
German Pyramid and Christmas Tree Candles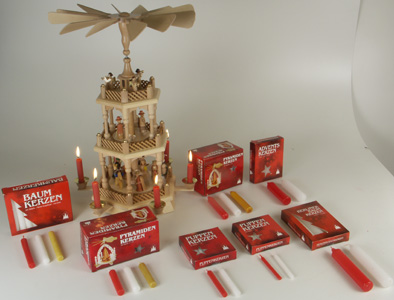 In this section you will find not only the hard to find Pyramid candles and Christmas Tree candles, but also a line of hand made candles from Germany made of paraffin. These burn beautifully, are not scented at all and are decorated with scenes of St. Nicholaus and other Christmas scenes. Whether you like the pillar candles in various sizes or the tapers, you will love the way these candles illuminate from within when burning. We use these in our advent wreaths at home and also in our Williamsburg chandelier! The flickering ambience and the glow is charming and puts me in the Christmas spirit immediately. I know that many people don�t burn them because they are so beautiful, but I can't resist. After all, candles are for lighting, aren't they?
Showing 1 to 24 of 24 (1 Pages)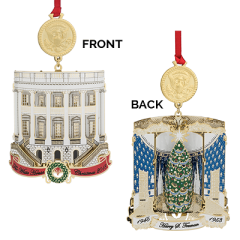 2018 White House Historical Association Annual Christmas Ornament Harry S Truman Size: (including seal charm) 2 1/8" x 3 1/4" tall The White House Historical Association's 2018 White House Christmas Ornament honors Harry S. Truman, the thirty-third president of the United States. This ornament is designed to illustrate three significant changes made by President Truman during his a..
Now Just $30.00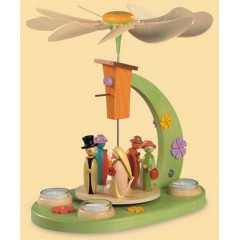 $200.00 Size: 12" x 9" x 12" A whimsical pyramid perfect for the Summer season! This wonderful creation depicts some "love birds" having a sweet wedding ceremony. A perfect twist on the traditional Christmas pyramid. Made in Germany ..
Now Just $200.00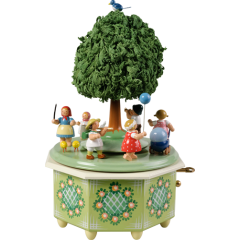 $980 Size: 26.5 cm tall 11" tall This charming springtime music box is sure to set to bring a smile to your face! This collectible, high quality piece features the signature style and look of Wendt and Kuhn with a 36 tone Swiss music box. Up top you'll see sweet children partaking in spring activities and the handpainted base features a delightful traditional pattern. ..
Now Just $980.00