Unpainted Pewter
Wilhelm Schweizer Unpainted Pewter from Diessen am Ammersee, Germany

These are hand cast pewter pieces, completely identical to the lovely hand painted ones you all know and love, the one significant difference being that they come to you unpainted just as they were offered several hundred years ago. It was not until years later that the lead figurines, later pewter, were hand painted in rich enamel paints. Wilhelm Schweizer pewter in either its painted or unpainted form is highly collectible and instantly become heirlooms of the future.

How meaningful to hand paint your own pewter to give as special gifts for special people in your life. Whether it is to commemorate a special occasion, a wedding, a birth or simply to celebrate any one of the holidays, something you have created yourself is that much more meaningful. Whether painted or left unpainted, Wilhelm Schweizer pewter pieces are truly precious treasures meant to be handed down from one generation to the next.

Please note: Listings titled "Special Set" are last chance items. These curated bundles include a 30% discount in their price and will not be returning once sold out. Don't miss this opportunity to own a one of a kind Wilhelm Schweizer piece at a great price!
Showing 1 to 28 of 28 (1 Pages)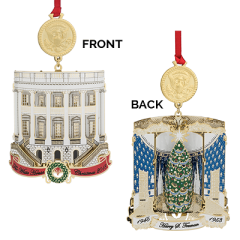 2018 White House Historical Association Annual Christmas Ornament Harry S Truman Size: (including seal charm) 2 1/8" x 3 1/4" tall The White House Historical Association's 2018 White House Christmas Ornament honors Harry S. Truman, the thirty-third president of the United States. This ornament is designed to illustrate three significant changes made by President Truman during his a..
Now Just $30.00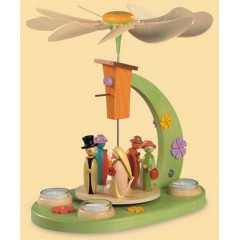 $200.00 Size: 12" x 9" x 12" A whimsical pyramid perfect for the Summer season! This wonderful creation depicts some "love birds" having a sweet wedding ceremony. A perfect twist on the traditional Christmas pyramid. Made in Germany ..
Now Just $200.00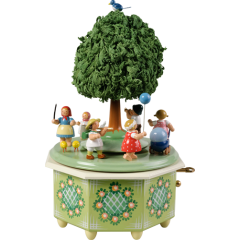 $980 Size: 26.5 cm tall 11" tall This charming springtime music box is sure to set to bring a smile to your face! This collectible, high quality piece features the signature style and look of Wendt and Kuhn with a 36 tone Swiss music box. Up top you'll see sweet children partaking in spring activities and the handpainted base features a delightful traditional pattern. ..
Now Just $980.00