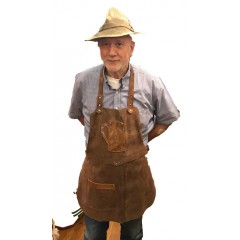 $112.00 Only Size Six. German Grillschuerze mit Latz aus Kalbvelourleder, braun mit Bierglas - Applikation. Meet the King of Grilling' favorite grilling apron! Direct from Germany, this is an actual German Grilling apron for the Man who loves to Grill! The body of the apron is made of genuine leather and the leather look trim and the Beer Stein applique are made of simulated le..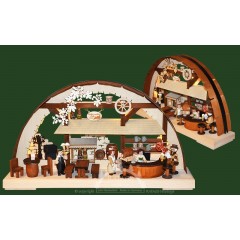 $364 Size 43 x 30 cm/ 17 x 12 inch (WxH) 3D Light arch with indirect illumination - cellar bar in a vault - 4 lathed figurines - many small access This delightful Schwibbogen, or Candle Arch in English, features a delightful workshop. Note all the skillful handicraft being done by the cutest array of characters - a lot of hard work goes in there wooden goods!..
Now Just $364.00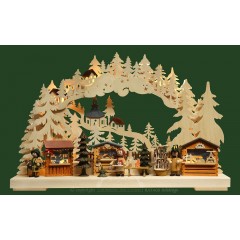 $ Size 43 x 30 cm/ 17 x 12 inch (WxH) This 3D light arch bow also is with indirect illumination and a lot of accessories like decorated market stands, a carved tree with bells and a pyramid. The original RATAGS figures are the toy merchant of Erzgebirge (Ore Mountains) and the market woman who offers wooden toys. All market huts are illuminated also and tell selling scenes. In..
Now Just $414.00
German Marionettes
German Marionettes
Maximiliane Kiermeier

Maximiliane studied graphic and fashion design at the Munich Master School of Fashion and then worked as a stylist in known companies until she discovered in 1986 puppets as an artistic object

Since then she designed and produced freely according to her own ideas in loving and sophisticated handcrafted figures from the realm of fairy tales and fantasy. The faces of the moving dolls never look ferocious or fearsome and delight lovers and collectors throughout the world.

Her further specialty is creating lifelike puppets shaped and sewn from portrait photos. Here she puts great value on similarity and facial expressions. It is always amazing for the viewer, when they compare original and marionette.
Showing 1 to 6 of 6 (1 Pages)