KWO Smokers
KWO Smokers
German wooden smokers or smoker men have an interesting history. First of all, they are made in the Ore Region of Germany, the Erzgebirge. Many years ago the area was known for its mining and the livelihood of virtually all the inhabitants was through mining. When the mining dried up, they were left with no real alternative source of income.
The Erzgebirge is rich in forestry so the miners turned one by one to wood carving. They would carve their ornaments and their smokers and take them on their backs to peddle their wares in various towns and cities. In time the artistry of the wood carvers of the Erzgebirge became famous for the quality of their work was noteworthy. It remains so to this day.
Click here to view our selection of German Incense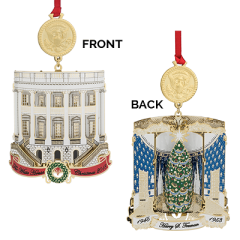 2018 White House Historical Association Annual Christmas Ornament Harry S Truman Size: (including seal charm) 2 1/8" x 3 1/4" tall The White House Historical Association's 2018 White House Christmas Ornament honors Harry S. Truman, the thirty-third president of the United States. This ornament is designed to illustrate three significant changes made by President Truman during his a..
Now Just $30.00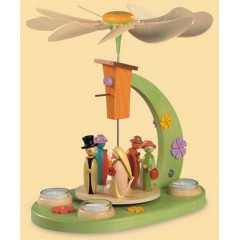 $200.00 Size: 12" x 9" x 12" A whimsical pyramid perfect for the Summer season! This wonderful creation depicts some "love birds" having a sweet wedding ceremony. A perfect twist on the traditional Christmas pyramid. Made in Germany ..
Now Just $200.00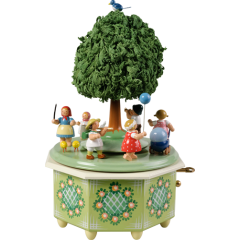 $980 Size: 26.5 cm tall 11" tall This charming springtime music box is sure to set to bring a smile to your face! This collectible, high quality piece features the signature style and look of Wendt and Kuhn with a 36 tone Swiss music box. Up top you'll see sweet children partaking in spring activities and the handpainted base features a delightful traditional pattern. ..
Now Just $980.00