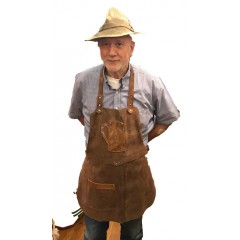 $112.00 Only Size Six. German Grillschuerze mit Latz aus Kalbvelourleder, braun mit Bierglas - Applikation. Meet the King of Grilling' favorite grilling apron! Direct from Germany, this is an actual German Grilling apron for the Man who loves to Grill! The body of the apron is made of genuine leather and the leather look trim and the Beer Stein applique are made of simulated le..
Now Just $112.00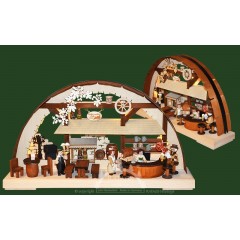 $364 Size 43 x 30 cm/ 17 x 12 inch (WxH) 3D Light arch with indirect illumination - cellar bar in a vault - 4 lathed figurines - many small access This delightful Schwibbogen, or Candle Arch in English, features a delightful workshop. Note all the skillful handicraft being done by the cutest array of characters - a lot of hard work goes in there wooden goods!..
Now Just $364.00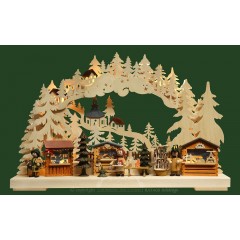 $ Size 43 x 30 cm/ 17 x 12 inch (WxH) This 3D light arch bow also is with indirect illumination and a lot of accessories like decorated market stands, a carved tree with bells and a pyramid. The original RATAGS figures are the toy merchant of Erzgebirge (Ore Mountains) and the market woman who offers wooden toys. All market huts are illuminated also and tell selling scenes. In..
Now Just $414.00
Oktoberfest Decorations
Oktoberfest (German pronunciation: [ɔkˈtoːbɐˌfɛst]) is the world's largest Volksfest (beer festival and traveling funfair). Held annually in Munich, Bavaria, Germany, it is a 16- to 18-day folk festival running from mid or late September to the first weekend in October, with more than 6 million people from around the world attending the event every year.
Locally, it is often called the Wiesn, after the colloquial name for the fairgrounds, Theresa's meadows (Theresienwiese). The Oktoberfest is an important part of Bavarian culture, having been held since the year 1810.
Other cities across the world, even here in Middleburg, also hold Oktoberfest celebrations that are modeled after the original Munich event.
Showing 1 to 56 of 56 (1 Pages)