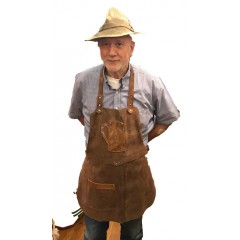 $112.00 Only Size Six. German Grillschuerze mit Latz aus Kalbvelourleder, braun mit Bierglas - Applikation. Meet the King of Grilling' favorite grilling apron! Direct from Germany, this is an actual German Grilling apron for the Man who loves to Grill! The body of the apron is made of genuine leather and the leather look trim and the Beer Stein applique are made of simulated le..
Now Just $112.00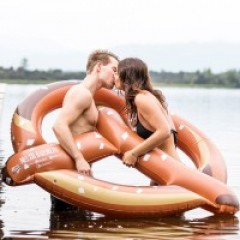 Nice, crispy, brown and with enough salt - this is what a pretzel in Bavaria must be like! And our infllatable swimming pretzel is exactly so. Inflated the pretzel is 150 x 110 cm and offers space for two adults or three children. IMPORTANT: The swimming pretzel is the smart answer to the classic air mattress, but it is no swimming aid! Children are only allowed to go into the water with..
German Incense Smokers
Our selection of Räuchermen, or Smoking Men is hands down the most popular section in our entire store! And that's saying a lot! - We have German Smokers, Räuchermen, or Smoking Men .
Why you ask? Well, we believe it might be that smokermen, or German Smokers, are completely unique and a fascination for children of all ages, from preschool to Great Grandparents! The craftsmanship, the expressions, the characters depicting virtually all trades, professions, hobbies, and advocations certainly have something to do with it.

Countless customers collect the little fellows the German Smokers, display and use them all year, and they're charming decorations at Christmas too! But it's the ingenious little smoker mechanism that seems to captivate! If you love the sensation of walking into a room and smelling a crackling fire, you will love what the German Smoker incense does for your home. Simply light a fragrant German incense cone and place it in the body of the smoke. As if by magic, the smokerman begins to smoke! Before long the entire room is infused with the fragrant scent of Christmas or Gingerbread, of Vanilla or Lavender or any one of the many, many fragrances in the German incense collection.

People with gas fireplaces, in particular, have told us that an instant sense of a wood burning fireplace is the immediate sensation when they light their German smokers!

Browse through this limited sampling of our more extensive selection located in our shop in Middleburg, Virginia.
Can't find what you are looking for?
Contact us at info@thechristmassleigh.com and we are here to help!
Click on this button to see how a Smokerman works!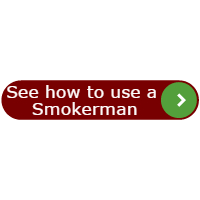 Refine Search