Copper Etchings
We are pleased and proud to introduce our magnificent selection of German rare etchings and copper prints to the international art public. Published and created by a German firm since the mid 1800's, the quality and clarity is simply stunning. We import these directly from Germany and are honored to have the opportunity to present them to you.

The art of etching and hand copper prints is regarded as one of the oldest and finest publishing techniques. And, in the case of etching, the motif is etched by the artist directly into the copperplate. In the case of Heliogravure, the image is engraved by using a complicated and complex handcraft procedure.
Printing is done on heavy hand made paper. Today, as 500 years ago, the copperplate is still carefully re-inked by hand and then cleaned with wide meshed gauze balls, for only when the ink lies deep in the impressions will the print possess the velvety tones and fragile lines so characteristic of old and valuable engravings.

The print is produced by pressing the plate under the press roller with a pressure of around 16 tons! For every single print, the entire procedure has to be repeated. Through the precise application and removal of ink, the carefully considered choice of paper and the use of hand press. The printing specialists create a precious original with every single picture.

As a very good example, Kurt Meyer-Eberhardt's color engravings are famous all over the world and many are seen right here in our web site. He was one of the great copper engravers of the 20th century. His name can be found in all important reference books such as Thieme-Becker/Benezeit/Vollmer Art Lexicon. Kurt Meyer-Eberhardt was born in Leipzig in 1895. He studied at the Weimar Academy of Fine Arts, where he became a student under artists Theodor Hagen and Lionel Feininger. He rejected a professorship in Weimar and went to Munich, where he decided to work entirely on animal engravings. His work has been published in Munich, London and New York since l917. When you see the simple artistry of his work as seen within these pages, you will know why his work is so widely acclaimed.

All etchings are printed on the highest quality and weight hand made paper.
Showing 1 to 5 of 5 (1 Pages)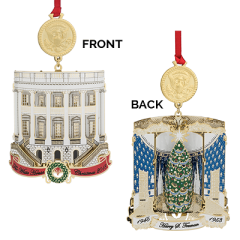 2018 White House Historical Association Annual Christmas Ornament Harry S Truman Size: (including seal charm) 2 1/8" x 3 1/4" tall The White House Historical Association's 2018 White House Christmas Ornament honors Harry S. Truman, the thirty-third president of the United States. This ornament is designed to illustrate three significant changes made by President Truman during his a..
Now Just $30.00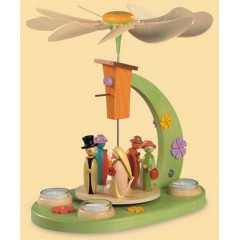 $200.00 Size: 12" x 9" x 12" A whimsical pyramid perfect for the Summer season! This wonderful creation depicts some "love birds" having a sweet wedding ceremony. A perfect twist on the traditional Christmas pyramid. Made in Germany ..
Now Just $200.00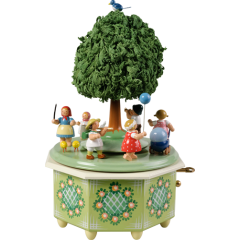 $980 Size: 26.5 cm tall 11" tall This charming springtime music box is sure to set to bring a smile to your face! This collectible, high quality piece features the signature style and look of Wendt and Kuhn with a 36 tone Swiss music box. Up top you'll see sweet children partaking in spring activities and the handpainted base features a delightful traditional pattern. ..
Now Just $980.00