Sign up for our Newsletter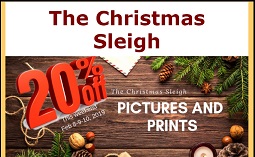 HELP WANTED
Please call or stop by the store and talk to Deiter about the position.
Part-time and possibly full-time sales associates needed at The Christmas Sleigh in Middleburg.
Looking for customer service oriented individuals with some retail experience.
Flexible hours include weekends.
Read & sign up for our Newsletter
Enter your email address below to receive our newsletters that let you know about specials, new products, and upcoming events at The Christmas Sleigh.
<
There are no products to list in this category.