Sign up for our Newsletter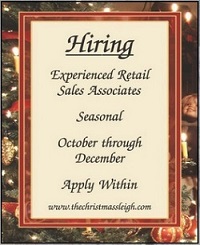 HELP WANTED
We are looking for Experienced Retail Associates for the Christmas Season.
Please call or stop by the store and talk to Deiter about the position.
Read & sign up for our Newsletter
Enter your email address below to receive our newsletters that let you know about specials, new products, and upcoming events at The Christmas Sleigh.
There are no products to list in this category.