Custom Christmas Decorating
Custom Christmas Home Decorating
Custom Christmas Decorating
By the talented elves at The Christmas Sleigh, Inc.

Our Christmas Tree
Christmas has always been my very favorite time of year. Our family's tradition was to begin began decorating the entire house for Christmas the day after Thanksgiving. Over the years, our home became known for our Christmas decorating both inside and out. Frankly, there is not a room in the house that isn't decorated in some way during the holidays. It might be simply a poinsettia or a cluster of candles on a table, or a pitcher full of fresh greenery, but there is something inviting and befitting of the season in each room.
For years, friends have asked for Christmas decorating tips. Then, when we opened the shop, customers wanted to know how we created the magical trees as well as the vignettes all around the shop. We began giving impromptu "Christmas decorating" lessons, and before long, our custom Christmas decorating arm of the business had taken off. We now decorate a limited number of homes all over the country! We are a small team and do everything ourselves, so reservations must be booked ahead we also include the complete disassembly of the decorations after the holiday as well as the packing, labeling and storing of the decorations.

In this section you will see examples of our work. First and foremost, you will see that we specialize in classic Christmas decorating. But, while Colonial Williamsburg would be right at home at our house, we have decorated homes to suit tastes of all sorts. (We draw the line at silver trees with blue lights!) We specialize in hand creating Williamsburg fresh decorations using enormous amounts of fresh greenery shipped directly to us from the grower in North Carolina, and we strive to create a warm, cozy and festive ambiance. Naturally, our German Christmas creations sold in our shop help create an old world Christmas feeling. Ours at home are ones that we have had for years and years, and they are truly family heirlooms.

You will see we use lots of greenery and fresh fruit typical of what is considered to be Colonial Williamsburg decorating. We tend to decorate in many ways as they might have done in the 1700's here in Virginia but certainly in the ways that would have been used during the Colonial Revival period.

If you like what you see and would like to set up a consultation for your custom Christmas decorating needs, please contact us before October 15th.
Showing 1 to 12 of 12 (1 Pages)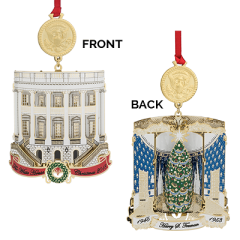 2018 White House Historical Association Annual Christmas Ornament Harry S Truman Size: (including seal charm) 2 1/8" x 3 1/4" tall The White House Historical Association's 2018 White House Christmas Ornament honors Harry S. Truman, the thirty-third president of the United States. This ornament is designed to illustrate three significant changes made by President Truman during his a..
Now Just $30.00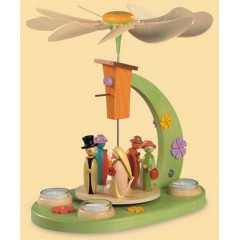 $200.00 Size: 12" x 9" x 12" A whimsical pyramid perfect for the Summer season! This wonderful creation depicts some "love birds" having a sweet wedding ceremony. A perfect twist on the traditional Christmas pyramid. Made in Germany ..
Now Just $200.00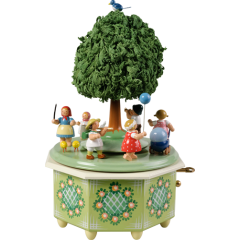 $980 Size: 26.5 cm tall 11" tall This charming springtime music box is sure to set to bring a smile to your face! This collectible, high quality piece features the signature style and look of Wendt and Kuhn with a 36 tone Swiss music box. Up top you'll see sweet children partaking in spring activities and the handpainted base features a delightful traditional pattern. ..
Now Just $980.00