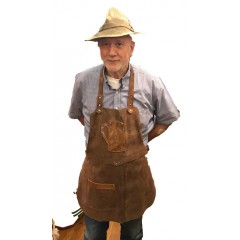 $112.00 Only Size Six. German Grillschuerze mit Latz aus Kalbvelourleder, braun mit Bierglas - Applikation. Meet the King of Grilling' favorite grilling apron! Direct from Germany, this is an actual German Grilling apron for the Man who loves to Grill! The body of the apron is made of genuine leather and the leather look trim and the Beer Stein applique are made of simulated le..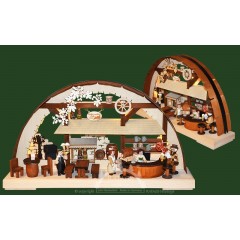 $364 Size 43 x 30 cm/ 17 x 12 inch (WxH) 3D Light arch with indirect illumination - cellar bar in a vault - 4 lathed figurines - many small access This delightful Schwibbogen, or Candle Arch in English, features a delightful workshop. Note all the skillful handicraft being done by the cutest array of characters - a lot of hard work goes in there wooden goods!..
Now Just $364.00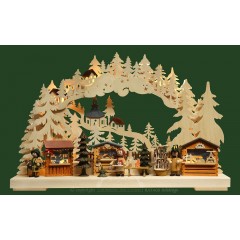 $ Size 43 x 30 cm/ 17 x 12 inch (WxH) This 3D light arch bow also is with indirect illumination and a lot of accessories like decorated market stands, a carved tree with bells and a pyramid. The original RATAGS figures are the toy merchant of Erzgebirge (Ore Mountains) and the market woman who offers wooden toys. All market huts are illuminated also and tell selling scenes. In..
Now Just $414.00
Struwwelpeter Hoechst Porcelain
Zeitgeist and Tradition
Marked with the Mainz wheel, Hoechst Porcelain has been manufactured for more than 260 years. Founded in 1746 with a manufacturer's privilege grant from the Archbishop and Crown Prince of Mainz, Johann Friedrich Carl von Ostein, Hoechst Porcelain is the second oldest porcelain manufactory in Germany.
Our consistent advancement of contemporary porcelain art has led to the exceptional beauty and value of Hoechst porcelain. Connoisseurs worldwide consider Hoechst Porcelain among the crowning achievements in European porcelain art.
Hoechst history
Hoechst Porcelain Manufactory was founded in 1746 as the Electoral Manufactory of Mainz. It is the second oldest porcelain manufactory in Germany and the only one in Hessen. This privilege, along with a monopoly in the Principality of Mainz was granted by the Crown Prince of Mainz, Johann Friedrich Carl von Ostein, with this privilege came the prerequisite that Hoechst Porcelain would keep the Mainz wheel as its trademark.
In 1977 the Dalberg House in Frankfurt-Hoechst which was formerly owned by the Archbishop of Mainz, Wolfgang von Dalberg, became the principal office of Hoechst Porcelain Manufactory.
In 2002, production was moved to the "Porzellanhof"; a newly renovated historically protected industrial building, which dates back to 1906, situated next to Hoechst city park.
Showing 1 to 23 of 23 (1 Pages)