Struwwelpeter Hoechst Porcelain
Zeitgeist and Tradition
Marked with the Mainz wheel, Hoechst Porcelain has been manufactured for more than 260 years. Founded in 1746 with a manufacturer's privilege grant from the Archbishop and Crown Prince of Mainz, Johann Friedrich Carl von Ostein, Hoechst Porcelain is the second oldest porcelain manufactory in Germany.
Our consistent advancement of contemporary porcelain art has led to the exceptional beauty and value of Hoechst porcelain. Connoisseurs worldwide consider Hoechst Porcelain among the crowning achievements in European porcelain art.
Hoechst history
Hoechst Porcelain Manufactory was founded in 1746 as the Electoral Manufactory of Mainz. It is the second oldest porcelain manufactory in Germany and the only one in Hessen. This privilege, along with a monopoly in the Principality of Mainz was granted by the Crown Prince of Mainz, Johann Friedrich Carl von Ostein, with this privilege came the prerequisite that Hoechst Porcelain would keep the Mainz wheel as its trademark.
In 1977 the Dalberg House in Frankfurt-Hoechst which was formerly owned by the Archbishop of Mainz, Wolfgang von Dalberg, became the principal office of Hoechst Porcelain Manufactory.
In 2002, production was moved to the "Porzellanhof"; a newly renovated historically protected industrial building, which dates back to 1906, situated next to Hoechst city park.
Showing 1 to 14 of 14 (1 Pages)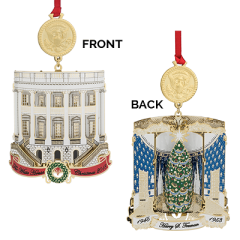 2018 White House Historical Association Annual Christmas Ornament Harry S Truman Size: (including seal charm) 2 1/8" x 3 1/4" tall The White House Historical Association's 2018 White House Christmas Ornament honors Harry S. Truman, the thirty-third president of the United States. This ornament is designed to illustrate three significant changes made by President Truman during his a..
Now Just $30.00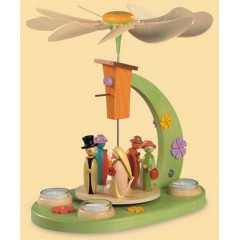 $200.00 Size: 12" x 9" x 12" A whimsical pyramid perfect for the Summer season! This wonderful creation depicts some "love birds" having a sweet wedding ceremony. A perfect twist on the traditional Christmas pyramid. Made in Germany ..
Now Just $200.00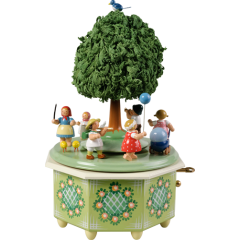 $980 Size: 26.5 cm tall 11" tall This charming springtime music box is sure to set to bring a smile to your face! This collectible, high quality piece features the signature style and look of Wendt and Kuhn with a 36 tone Swiss music box. Up top you'll see sweet children partaking in spring activities and the handpainted base features a delightful traditional pattern. ..
Now Just $980.00