Customer Service
Welcome to The Christmas Sleigh where you will find the finest in traditional and old world European Christmas decorations, hand made holiday ornaments, limited edition pieces, mouth blown ornaments and so much more. Our goal is to provide unsurpassed customer service along with our unsurpassed quality of goods. Customer feedback is very important to us.

You may reach us in the following ways:
By U.S. Mail The Christmas Sleigh Post Office Box 181 Middleburg, VA 20118
Or by Electronic Mail (Preferred) info@thechristmassleigh.com
By Telephone 540.687.3665
By Fax 540.687.3435
HOW TO SHOP At TheChristmasSleigh.com
Just click on "add to cart" to place an item in your shopping cart. This does not commit you to purchasing the item. Once you have placed an item in your basket, you may either proceed to check out or you may continue shopping.

You may remove anything in your basket at any time by clicking on "Remove" (the red x) which is found next to the item in your basket. You may view the contents of your basket at any time by clicking on "Shopping Cart".

Should you have any difficulty in ordering, please email us at info@thechristmsasleigh.com and we will be happy to assist you in placing your order.
Please review your order confirmation via e-mail once you've made your purchase, orders are processed quickly and any changes or requests must be made prior to shipping.

SALES TAX
Virginia residents add 6% sales tax.

BILLING
Once we receive your order, we verify that the item is still available; as an example, there is always a chance that an item you ordered was ordered at the same time by another customer. If the item is not available, we will email you to let you know. Your purchase will appear on your credit card statement from "The Christmas Sleigh" and will be charged upon shipment.

RETURNS
The Christmas Sleigh offers a 10 day return period from date of receipt or 14 day return period from date of our shipment to you for all items in their original condition and in their original packaging. Merchandise purchased before December 25, 2006 cannot be returned after that date for a refund, credit or exchange. We strongly advise using an INSURED CARRIER WITH TRACKING SERVICES as we are not responsible for packages that do not arrive, or packages that arrive damaged in any way. All returns must take place within 10 days of your receipt of items or 14 days from date of our shipment. Please note we do not cover return shipping.

RETURNS MAY BE SHIPPED TO:

The Christmas Sleigh, Inc.
ATTN: RETURNS
5A East Washington Street
Middleburg, VA 20118

We refund all orders via check or PayPal, please let us know your preferred method when contacting us regarding your return. We can also issue store credit at our retail location in Middleburg, VA.

Thank you for shopping at The Christmas Sleigh!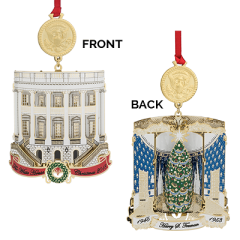 2018 White House Historical Association Annual Christmas Ornament Harry S Truman Size: (including seal charm) 2 1/8" x 3 1/4" tall The White House Historical Association's 2018 White House Christmas Ornament honors Harry S. Truman, the thirty-third president of the United States. This ornament is designed to illustrate three significant changes made by President Truman during his a..
Now Just $30.00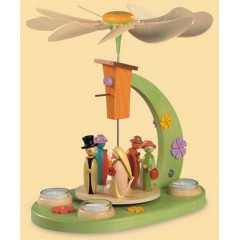 $200.00 Size: 12" x 9" x 12" A whimsical pyramid perfect for the Summer season! This wonderful creation depicts some "love birds" having a sweet wedding ceremony. A perfect twist on the traditional Christmas pyramid. Made in Germany ..
Now Just $200.00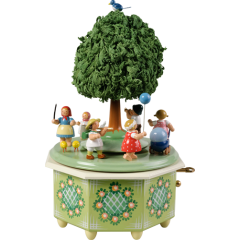 $980 Size: 26.5 cm tall 11" tall This charming springtime music box is sure to set to bring a smile to your face! This collectible, high quality piece features the signature style and look of Wendt and Kuhn with a 36 tone Swiss music box. Up top you'll see sweet children partaking in spring activities and the handpainted base features a delightful traditional pattern. ..
Now Just $980.00