Middleburg Fox Gallery
We feel so lucky to live in such a beautiful and historic town. Middleburg is a pretty slice of America and is reminiscent of small towns all over the country in earlier days. A fully functioning town, Middleburg was so named because, it is said, it was the halfway point between the Alexandria, Va and Washington, DC areas and Winchester, Va. Washington traveling that very route on his way to his surveying responsibilities out toward Winchester.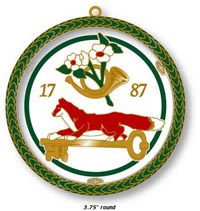 One can well imagine young George Middleburg's history did not stop there.
The efforts of Mosby's Rangers during the Civil War are well documented, and there is even a local estate with an enormous tree outside an upper window where, it is said, John Mosby fled when Union forces entered the area intent on his capture.
In later years, Middleburg became known as the Horse and Hunt Capital of the United States, a title it still carries.
When then President Kennedy and his family chose Middleburg as their "Camp David" for weekend retreats, it's fame became even more generally well known. People come from all over the world to experience Middleburg.
We invite you to take a look through our collection of Middleburg memorabilia and even better, come and visit us.
Refine Search
Showing 1 to 98 of 98 (1 Pages)