Advent Calendars
Byers Choice Advent Calendars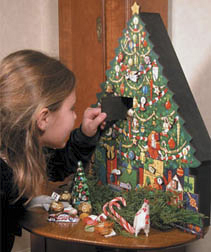 As children my sister and I eagerly looked forward to the arrival of our paper Advent Calendars from Germany sent to us courtesy of our German grandparents! Opening each glittery door each day was so exciting and our excitement only mounted as we counted down the days until that most magical of holidays, Christmas Day! Now Byers Choice, famous for their beautiful hand made carolers, offer an even more spectacular Advent Calendar for children of all ages!

Made of wood, these Advent Calendars offer you the opportunity to fill each and every door with small goodies or little trinkets, with each year bringing new delights! A sure fire hit and something that can be used from year to year. Order one for each child and begin this wonderful tradition with your own children and grandchildren.

Browse our selection of Byers Choice Advent Calendars. It's difficult to choose with such delightful calendars available but with Byers Choice you really can't go wrong!
Showing 1 to 12 of 12 (1 Pages)