Oberammergauer Hampelmann
Thomas Margraf's German jumping figures have their origin in the traditional Oberamergau art of wood carving. Thomas Margraf discovered the charm of the wooden jumping jacks and revived their tradition anew in the form of his charming characters seen here.
As you can see, his collection added many designs to the classical Ammergau harlequin. Typical of his style is the elongated form of the figures and the surface quality emphasized by the natural structure of the wood. All the individual parts of the Jumping Jacks (Hampelmaenner) are split from an evenly grown tree trunk into fine shingles and then begin to take on their distinctive form by means of a wood carving knife.
Nailed together with fine wood nails, made to jump with string, primed, painted and varnished each individual figure receives its own particular character through pure handcraft. Because of this, no two figures are ever completely identical.
As Thomas Margraf has said, "Only through handcraft do beautiful things with soul arise." Enjoy these special figures!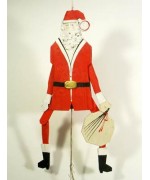 Jumping Jack Santer "Oberammergauer Hampelmann Weihnachtsmann" "Oberammergauer Hampelmann Santer..
$48.00
Model:13
Showing 1 to 1 of 1 (1 Pages)